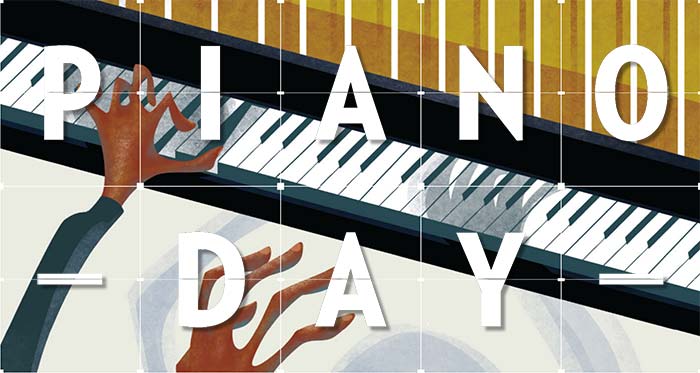 Piano Day, an annual worldwide event founded by a group of likeminded people, takes place on the 88th day of the year because of the number of keys on the instrument being celebrated.
This time we are happy to have Kelly James Wyse and Arp Dinkelaker at the keys presenting their own works and more! More details to come…
Kelly James Wyse is a pianist, composer and teacher from the US living in Berlin.
His music is inspired by experiments of harmonic colour either by way of overtone manipulation or repetition.
His first solo piano record, Pastoralia, was self released in 2020 with the remix EP, Sol, released in 2021.
His second full length will arrive later in 2022.
He has been a core member of X-Ray Press, Pollens and The Seattle Pianist Collective
and contributed to recordings by loscil, Rafael Anton Irasarri, Paurl Walsh, Jake Muir and Orcas.
He holds a degree in piano performance from Cornish College in Seattle and has an active piano teaching studio which he hosts students online from around the globe.
.
Berlin based designer and musician Arp Dinkelaker fell in love with minimalism when he was introduced to the music of Steve Reich from a young age. However, coming from a traditional method of classical training (in piano, violin and voice) his interests in contemporary forms were discouraged by his teachers. He pursued his love of minimal forms in design, architecture and electronic music instead.
Lately, Arp has been synthesising these interests back into music and composing and has fallen back in love with the piano. He describes his new works as "neopolyphonic sound clusters" and "songs without voice".
Einlass: 20:00Uhr
Beginn: 20:30Uhr
Eintritt frei, Austritt auf Hut.
Jeder Schein, jede Münze geht zu 100% an die Künstler*innen.
RESERVIERUNG / RESERVATION:



Covid | 2G+
Um unsere Veranstaltungen besuchen zu können benötigt ihr einen Nachweis über die vollständige Impfung (2x) oder Genesung mit einem Tagesaktuellen Test.
Menschen mit drei Impfungen (geboostert) erhalten Eintritt ohne Test.
Das entspricht den gesetzlichen Bestimmungen.
Buchungen